Only a few people understand that life is often measured, not by the length of time but by the measure of definite contribution. Imo State-born legal luminary, Barrister Willie Amadi is one of the few people who have armed themselves with this understanding, and therefore, congratulations are in order as London-based international entrepreneur, and an administrative member of the Owerri Zone Socio-political group Chief Better Joseph Ekeh has sent his heartfelt felicitations to the man of the moment. 
Barrister Willie Amadi, a former Special Adviser to Governor Ikedi Ohakim, former General Manager of ENTRACO, former Federal Commissioner, and currently the Chief Technical Adviser to Governor Hope Uzodinma turned 60 over the weekend and as expected, the socio-political group has rolled out the drums to celebrate him.
In a message sent to The Eastern Updates, Chief Ekeh described the experienced administrator as a builder of leaders, a fearless one at that who has remained a source of inspiration for many. Standing for the truth no matter whose ox is gored is an attribute that has fetched him many friends and foes but ultimately has elevated his standing with his maker.
Read Also: APC Chairmanship: Chiefs Amadi, Ekeh Laud Dr. Kelechi Ebere
He said; 'At some time in his life, he was the most influential Special Adviser to former Governor Ikedi Ohakim. While in the office, he saw it as an opportunity to serve his people and he did. Testimonies abound on the number of people from his community whom he gave a push on the ladder of life by simply supporting them when it mattered the most.
'Serving as the Federal Complaints Commissioner was no different ball game for Amadi who simply saw it as nothing but another rare opportunity to serve. Despite the distraction he faced, the records are out there, visible to the blind and audible to the deaf. Whilst he served at ENTRACO as General Manager, his commitment was unwavering, and his contributions to the progress and development of Imo State has continued to speak volumes.'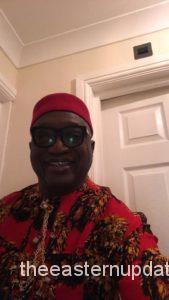 Speaking further, he said; 'Celebrating Chief Amadi every day of the year is worthwhile, but birthdays are special, and hence the call for special felicitations. To this end, I join the whole world to congratulate him on his 60th birthday. It is not an easy feat. I want to thank God for the opportunity he has accorded him to mark another year of great milestones.'
'Barr Willie is a leader who is courageous, bold, fearless, tenacious, and unique, who has remained a powerful motivator to everyone he has come in contact with. Truly, it is not surprising that he has many mentees scattered across the world doing well for themselves.
'To the jolly good man who loves life and understands how to enjoy it while it lasts, I wish you long life and prosperity. Good health, sound mind, wisdom, understanding, and good fortunes will be your portion. May nature continue to be kind to you. The best years of your life are ahead of you! Salute!'
The Eastern Updates reports that Barrister Willie Amadi can be described as a trail-blazer in every single sense of the word and he is not called this as a means of flattery or patronage. He has continued to contribute to the development of society and making the world a better place.