Governor Okezie Ikpeazu of Abia State is a man who has failed woefully at the simple task of governing one of the smallest States in Nigeria and as if that is not enough, he has made it a point of action to leave the State completely in shambles and worse than he actually met it when he fraudulently bullied his way into power.
The pace of infrastructural development in the State is completely on ground zero and this is because there is no adequate funding being pumped into the generation and rehabilitation of most projects in the State. Contractors in Abia State are very reluctant to take or start up any assigned projects for fear of self-funding the supposed State Government projects or being swindled by the Abia State Government and this is why Governor Okezie Ikpeazu's administration has been scored very low when it comes to finishing up and delivering projects in Abia State.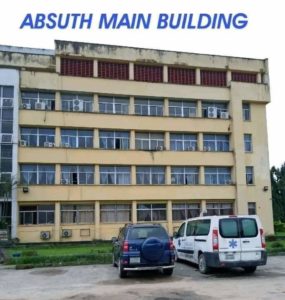 And as if that is not enough, the infrastructures which were already functional before he came into power can be said to have seen much better days as a look at them would show serious dilapidation besieging them. A good example of these would be some of the major roads in Abia State and her capital, some of the State secretariat buildings and other State Government-owned projects which have all been abandoned to the state of 'near-death.
Another good example would be the Abia State University Teaching hospital which is located at Aba, Abia State. The hospital is owned by the Abia State Government. The Abia State University Teaching hospital could have boasted of over more than 2,000 workers (if a majority of them hadn't quit or absconded because of ill-treatment from the Abia State Government); both medical and non-medical staff. But there is a big problem facing these workers; unpaid salaries, terrible working conditions and dilapidated working environments.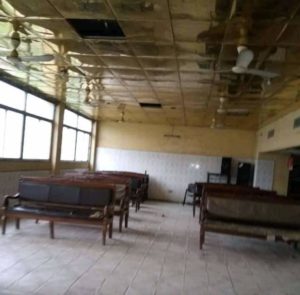 As of present, the last salary these ABSUTH workers received was in January 2019 when the Abia State Government reluctantly doled out some sums of money for their salaries and arrears after numerous pleadings and strike actions from the State workers and other national bodies. After that, it was like the Abia State Government decided to punish the Medical workers for making them dole out their salaries. Twenty-two months after that and counting all pleas, and incentives to the Abia State Government and Governor Okezie Ikpeazu to do the needful and remit the payments to these workers have all fallen on deaf ears.
Read Also: I Don't Intend To Join APC, Gov Ikpeazu Insists
Other numerous strike actions that the Teaching Hospital's workers held which led to the closing down of the hospital have all proven to be futile because after each strike the workers manage to return to work at the order of the Governor and Nigeria Labour Congress(Abia State chapter) who always reach an agreement with the State government for the meantime and then that agreement would always be flouted by Governor Okezie Ikpeazu and his maladministration, and the strike action cycle plays out again. The most recent strike action was held on the 3rd of this month when all parent organisations of the Teaching Hospital including the Association of Resident Doctors (ARD), Medical and Health Workers Union of Nigeria (MHWUN), National Association of Nigerian Nurses and Midwives (NANNM), Senior Staff Association of Universities' Teaching Hospitals Research Institutes and Associated Institutions (SSAUTHRIAI) all made it clear that they had had enough from Governor Okezie Ikpeazu and his unnecessary callous theatrics.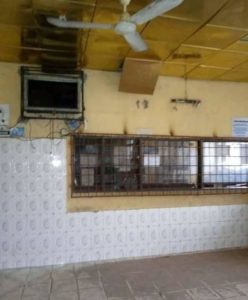 In the communique which they released to inform the Government about the strike, they expressed their grievances at how terrible the State Government has been treating them especially the pensioners who have not received a single kobo since seven years:
'We the Joint Unions of ABSUTH under the Joint Action Committee (JAC) wish to inform the Government that we have exhausted our patience and can no longer watch our members and their families die in penury due to non-payment of 22 months salary arrears.
'This has been made known to the Government through previous notices, especially the notice of April 15, 2021 and the subsequent suspension on April 16, 2021.'
'Equally, we wish to inform the government that for the past seven years, no pensioner in ABSUTH had been paid a dime and this cannot be allowed to continue.'
This is a very wicked way for a State Governor to treat his wards especially when it concerns a Government establishment and one that concerns health for that matter and it goes a long way to show how low Governor Okezie Ikpeazu can descend.
It is also worthy to note that during the coronavirus pandemic and lockdown of 2020, the hospital's workers were still functioning tirelessly without being paid despite how terrible the economy was at that time. Information also has it that they produced hand sanitisers majorly for the State from their own pockets. This would bring any observer to ask how the few remaining workers are surviving despite the fact that they have been abandoned by the State Government.
Another issue that needs to be looked into is the dilapidated state of the Abia State University Teaching hospital. If not for the raggedy signboard at the entrance of the Hospital, many would mistake the structure for something out of a bad war film. From pathways that have been overridden by grass and shrubs to walls in dire need of painting and maintenance. Taking a walk into the hospital receptions and wards would leave anyone in awe of how shabby the buildings are. From dirty looking, broken ceilings which now house rodents of all shapes and sizes to unkempt toilets that house worse creatures it would be difficult to accept that this structure is actually a health centre that was meant to diagnose, and treat sick people.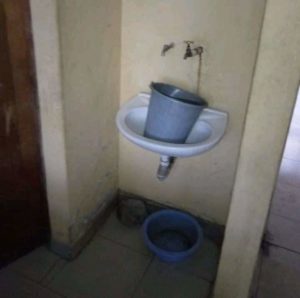 The hospital premises is usually congested every day, patients troop in and out, the accident and emergency unit is always open and crowded at night and this is because Aba residents generally prefer the Abia State Teaching Hospital for their treatment. The reason is not so far fetched from the fact that the teaching hospital is where consultants and specialists are seen more than any other hospitals or health centres in the town. Major hospitals in Abia State usually refer patients to the Abia State Teaching Hospital whenever their cases are worse and the price of health treatments in the Hospital are relatively cheaper when compared to other private health institutions. This is why the hospital generates the highest revenue in the State more than any other State-owned establishments and other arms of the State. The Abia State Government even collected some foreign loans to the tune of ₦13,999,748,368 (thirteen billion, nine hundred and ninety-nine million, seven hundred and forty-eight thousand, three hundred and sixty eight naira) for the maintenance of the hospital. This would leave one to wonder why Governor Okezie Ikpeazu has chosen to neglect and maltreat one of his geese that lays golden eggs for him to pilfer and embezzle into his private accounts.
These workers can comfortably beat their chests and boast that they generate more than enough to get paid in due time and yet they are treated badly. The very few times when the previous salaries are paid, they are often slashed. The workers can't leave the work, they can't resign and they don't want to be sacked because there is no hope elsewhere.

The issue of unpaid salaries especially to health workers and the dilapidated structure of this teaching hospital from which the State generates a high amount of revenue should be looked into. Talking about minimum wage, other states are happy, enjoying the minimum wage but this sort of thing is alien to Abia State workers who have never enjoyed this sort of benefits. Infact, they have made it clear that the State Government can withhold the new minimum wage and pay them their previous salaries.
Since 1999 till date, Abia State leadership has gone from bad to worse but Governor Okezie is by far, the worst Governor Abia State has ever had judging by the way he treats his workers and wards. A leader who is this heartless towards his wards has no right to be called a leader.
Suffice to say, Governor Ikpeazu shouldn't be allowed to escape from his numerous crimes prominent amongst which is incessant looting of Abia State's treasury which has eventually led the once thriving and economic viable State into despicable penury – the EFCC needs to cleverly and adequately investigate all his offshore accounts were he has been staching funds away with reckless abandon as if Abia were his family's inheritance probably bequeathed to him by his forebearers. If the anti graft commission should have any challenge with such investigation, The Eastern Updates wouldn't hesitate one bit in providing the commission with leads, sufficient information to aid in their investigation, and possible prosecution of the looting Governor.
THE EASTERN UPDATES