Ebonyi State Governor, Engr David Nweze Umahi has expressed confidence that the Iyere flyover in Edda, Afikpo South Local Government Area would be completed soon.
Governor Umahi stated this while speaking to correspondents shortly after inspecting the progress of work at the flyover measuring half a kilometer.
Read Also: EBSU Medical School Would Be Completed Next Month – Umahi
He said his administration choose to embark on the project which is executed by direct labour to save travelers from the agony of plying the road which has a dreaded terrain.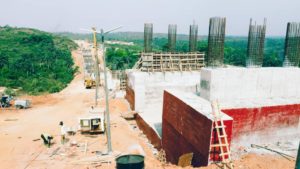 Governor Umahi while regretting that over 54 lives had been lost on the road, assured that his administration would deliver the project within the shortest possible time and in the best of quality.
He expressed optimism that the flyover would boost economic activities between Ebonyi and Abia States when completed.
'The economic benefit is that economic activities between Abia and Ebonyi State will be boosted through this section of Ebonyi State when this flyover is completed as the state.'
Investigations have shown that in less than six years of Governor David Umahi, he has completed twelve flyovers and five are presently ongoing.
THE EASTERN UPDATES