In a landmark moment that promises to recalibrate the political dynamics of the forthcoming Imo gubernatorial race, Tony Ejiogu, the visionary candidate from the All Progressives Grand Alliance (APGA), has secured a pivotal endorsement from the influential Owerri Zone Group. This momentous endorsement is set to catapult his campaign forward as we approach the elections pencilled in for November 11, 2023.
The Owerri Zone Group, an entity renowned for its political clout and composed of seasoned technocrats, threw their collective weight behind Ejiogu in a public letter disseminated earlier today, and made available to The Eastern Updates. The endorsement from such a group, whose reputation is cemented in its steadfast dedication to the growth and development of Imo State, is anticipated to carry considerable gravitas.
In their emphatic endorsement, the group hailed Ejiogu as a beacon of hope that Imo State desperately needs in these pivotal times. They lavished praise on his deep-seated understanding of the state's socio-economic milieu, his remarkable entrepreneurial track record of transformative initiatives, and his unwavering commitment to upholding transparency and accountability in the public sector.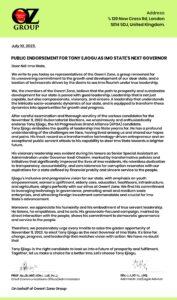 Read Also: Ejiogu, The Kind of Governor, Imo Needs Now – YIP President
Ejiogu's progressive vision for a united and thriving Imo State resonated profoundly with the group. His emphatic focus on empowering the youth, championing women's rights, safeguarding the elderly, and galvanising sectors such as education, healthcare, infrastructure, and agriculture was recognised as harmonising seamlessly with the ambitions and aspirations of the people of Imo State.
The Owerri Zone Group's ringing endorsement of Ejiogu signals a surge of support for the APGA candidate. Given the group's profound influence among the intellectual and technocratic elite of the state, Ejiogu's candidacy is poised to secure enhanced appeal among these critical demographics.
The endorsement, signed by Prof. MarkAnthony Nze, Chief Communications Officer of the group, and Eddie Ajoku Esq., a respected Administrator of the group and former Legal Adviser to APGA-UK, serves as a resounding affirmation of the burgeoning trust and confidence in Tony Ejiogu as the preeminent candidate to steer Imo State towards a horizon of prosperity and progress.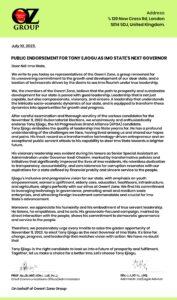 This groundswell of support and the resulting momentum are expected to propel Ejiogu's campaign to new heights in the lead-up to the November 2023 election.
As we advance towards election day, stay connected for further updates on this thrilling race for the future leadership of Imo State. The political tide is turning, and the time for Tony Ejiogu is undeniably now.