Mama is over a hundred years old and a great symbol of 'Good Health'. She still walks by herself and Mama is still very articulate. Mama is proudly from Ojingwa Family in Amike and married to Oguike Family in Orlu.
I met Mama through one of my numerous community engagements as Imo State Diaspora Special Adviser under Distinguished Senator Hope Uzodimma, (our present Governor). There, I heard that Mama was once a Nanny to the late Dick Tiger's wife. It is vital to me that I mentioned this element as we hardly celebrate our Sports Icons… A topic for a different day!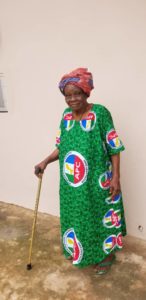 Anyway, today 23/07/2021 I received this beautiful photo of Mama 'rocking' this newly tailored APC DRESS. This is my wrapper recently given to us Appointees by our Governor. As I'm in Diaspora at the moment, I thought of who is the most symbolic of 'Good Health' in Imo and Mama came to mind. For this reason, I asked for the wrapper to be gifted to her.
As she wears this wrapper today still looking ever so sprightly, I pray that our 'Good Healths' improve in Imo! I pray that long, prosperous and healthy lives become a norm in Imo and not an exception. I pray we all reach 100 years like Mama whether you're in APC or not even in any Party. I pray that we can all see the sense in putting our differences aside and Unite with the 3R Government in pursuit of common Goals like 'Good Health'.
Finally I pray that wisdom, courage and commitment-to-service will continue to manifest through our present Governor and even in future Governors so that Imo will be completely transformed for better and for all! Please say a loud Amen!
Signed: Hon. Cllr. Celia Osakwe-Hibbert
Current Elected Councillor for Penn Ward Wolverhampton. United Kingdom
Immediate Past Special Adviser to Imo State Governor on Diaspora Affairs.
THE EASTERN UPDATES