The Nigeria Labour Congress (NLC), Imo State Council has given Governor Hope Uzodinma of Imo State a 14-day ultimatum to address the issue of irregular payments of their salaries and pensions or risk indefinite strike by workers.
The letter of the ultimatum which was signed by the Imo State Nigeria Labour Congress chairman, Comrade Austin Chilakpu detailed that the ultimatum which starts from tomorrow, Wednesday, 28th of October to Monday, the 16th of November would give the governor ample room to meet their demands of regular reimbursement of salaries and pensions and minimum wage considerations.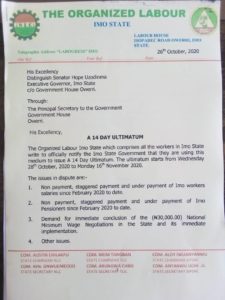 As at the time of filing this report, the Imo State Government has not made any official statements pertaining to the ultimatum.
THE EASTERN UPDATES