Performing lawmaker representing Owerri North State Constituency in the Imo State House of Assembly, Honourable Engr. Philip Ejiogu, popularly called Mr. Integrity has decried the degeneration of the EndSARS protests into lootings, destruction of properties and loss of life.
The lawmaker who had earlier lent his support for the youths in the #EndSARS movement lamented on how the peaceful protests had been hijacked by individuals with ulterior motives who have taken to destroying properties and attacking government officials and civilians to push their own personal vendetta.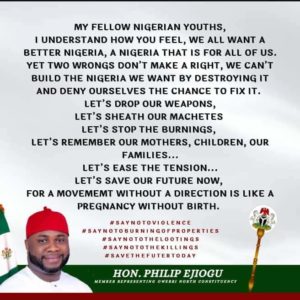 In his words:
'My Fellow Nigerian Youths, I understand how you feel. We all want a better Nigeria, a Nigeria that is for all of us.'
'Yet two wrongs do not make a right, we can't build the Nigeria we want by destroying it and deny ourselves the chance to fix it.'
'Let's drop our weapons, let's sheat our machetes, let's stop the burnings, let's remember our mothers, children, families, let's ease the tension, let's save our future now. For a movement without direction is like pregnancy without birth.
#SAYNOTOVIOLENCE
#SAYNOTOBURNINGPROPERTIES
#SAYNOTOLOOTINGS
#SAYNOTTOTHEKILLINGS
#SAVETHEFUTURETODAY
What matters is not tribe..
What matters is not religion…
What matters is not privilege..
What matters is not a person's background..
What matters is that we are Nigerians…
And that every Nigerian deserves quality life…
Every Nigerian abhors injustice and violence….
Every Nigerian is no friend of hunger and poverty..
As a member of the youth zone, I call for an end to violence….
An end to SARS is an end to police brutality…
I call for Police Reform and not killing of innocent Nigerians…
Yes the duty to change Nigeria is ours….
As youths we have risen to the task…but not to violence…
Yes …to dialogue via civil engagement…
Let there be equity and justice for the people….
#MrIntegritySpeaks
THE EASTERN UPDATES