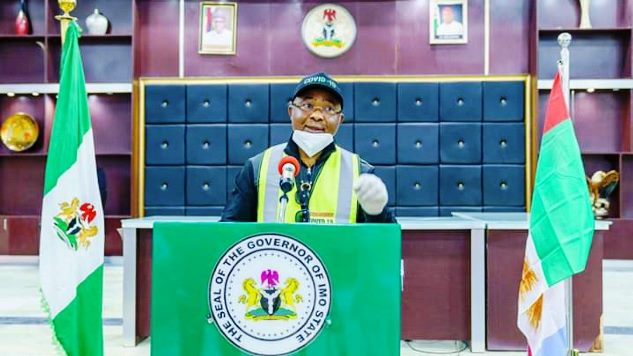 An Imo based politician and political analyst comrade Livinus Emegharaibe has commended the state Governor, Senator Hope Uzodinma for the appointment of the OCDA General Manager, Engr. Innocent Ikpamezie.
Comrade Emegharaibe made the commendation while delivering a speech in a seminar tagged "TOWARDS ACHIEVING A BETTER IMO" in Owerri.
In his speech, comrade Emegharaibe posited that before any candidate decides to run to be elected as the number one citizen of any state, such candidate must have set his agenda and set goals which always serves as his guard. He further stated that another thing that contributes to the success of any candidate after winning an election is the quality of appointees he surrounds himself with, even as he made it clear that the failure and success of such a person is hinged on his caliber of appointees.
Comrade Emegharaibe therefore commended the leadership of Governor Hope Uzodinma for appointing Engr Innocent Ikpamezie as the General Manager of OCDA. Even as he pointed out that, before now, it has been a burden to him as a great Imolite on who would mann the activities of OCDA to achieve the Imo master plan until the name of the young and energetic Umunoha born was mentioned as the OCDA GM.
The politician cum political analyst also affirmed that since the appointment of Engr Ikpamezie, the activities of the OCDA staff have taken a different shape and gave kudos to the OCDA boss. According to him, the Owerri city which was full of shanties now wear a different look.
Even as the astute politician extolled the OCDA boss for his doggedness and will power in the areas of discharging his duties and described his appointment as a square peg in a square hole, he therefore advised Hon. Ikpamezie not to deviate from the present style of making Imo a free shanty state in other to help the Governor, Senator Hope Uzodinma actualize his shared prosperity government.
Speaking further, Engr Emegharaibe recalled with nostalgia several years ago what transpired between him and one of the former GM's of OCDA. Even as he noted with dismay that it was an uphill task to trace a particular file, but expressed happiness that today, one can trace a file and document under one minute and without stress.
He maintained that this was achieved because an appointment was given to a digital young man who knows his onion, emphasizing that no right thinking Imolite can boldly come out today to state that he or she is not happy with the way things are going at OCDA. Comrade Emegharaibe therefore lauded Engr Ikpamezie for his sterling leadership qualities and service to humanity.
The political analyst also used the medium to thank the Governor Senator Hope Uzodinma for his outstanding and invaluable contributions towards the development of the state.
THE EASTERN UPDATES