Imo State Governor, Senator Hope Uzodinma, recently described President Muhammadu Buhari as a stabilising force who has used his honest leadership and visionary economic policies to stabilise the country and create a promising, sustainable self-reliant economy at a most trying time in the country.
The governor submitted that the President's honest management of resources and selflessness have helped in no small way in stabilising the polity and in refocusing the economy on the part of recovery and self-reliance, adding that but for the President's manifest honest leadership and relentless onslaught against corruption, the country would have long gone under.
He said the president's determined confrontation of the security challenges, the fight against corruption, and his economic policies have brought stability to Nigeria.
In the popular children folklore, The Emperor's New Clothes, two swindlers arrive at the capital city of an Emperor who spends lavishly on clothing at the expense of state matters. Posing as weavers, they offer to supply him with magnificent clothes that are invisible to those who are stupid or incompetent. The Emperor hires them, and they set up looms and go to work.
A succession of officials, and then the Emperor himself, visits them to check their progress. Each sees that the looms are empty but pretends otherwise to avoid being thought a fool.
Finally, the weavers report that the Emperor's suit is finished. They pretend to dress him and he sets off in a procession before the whole city.
The townsfolk uncomfortably go along with the pretense, not wanting to appear inept or stupid, until a child blurts out that the Emperor is wearing nothing at all.
Governor Hope Uzodinma is just like the Emperor's officials who know the Emperor is naked but in order not to look the villain, they go along with the lie.
Buhari's five years in office have highlighted the difference between accepting the principle of elective government and being a true democrat.
Buhari's government has serially ignored court orders, harassed and arrested journalists and activists, deployed security services to intimidate political opponents, and unforgivably sanctioned the killings of hundreds of unarmed civilians on multiple occasions with the impunity of a power-drunk dictatorship.
Yes, security services have been known to overreact even in advanced democracies, and civilians sometimes get hurt in the process.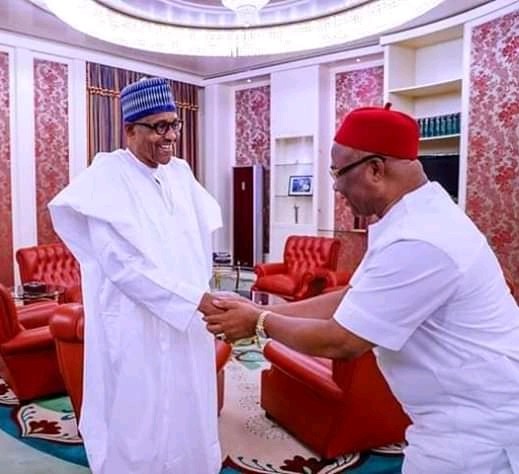 But what distinguishes governments committed to upholding fundamental human rights such as the right to not be killed while demonstrating peacefully are the post-incident actions they undertake to ensure such tragedies never repeat themselves.
Buhari's Government has also seen Nigeria turn into a land of economic crises, unemployment, and terrible marginalisation which makes one wonder where Senator Hope Uzodinma saw the prevailing honesty in the current Government structure.
THE EASTERN UPDATES